This is to inform all students that registration for courses in the 2020/2021 Academic session will close on Friday, 16 April 2021. All students are enjoined to register not later than the above date.
Late registration will start on Monday, 19 April 2021. The late registration will attract a fee of N5,000.00k until 30 April 2021.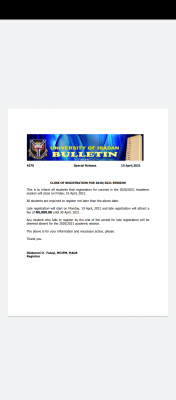 Any student that fails to register by the end of the period for late registration will be deemed absent for the 2020/2021 academic session.
The above is for your information and necessary action, please
Thank you
Olubunmi O. Faluyi, MCIPM
Registrar