This is to inform the general public that the Admission form of the school of Nursing, Iyienu for the 2021/2022 session has been released. Interested applicants are advised not to make payment to any individual or private account.
PROCEDURE FOR PURCHASE OF ADMISSION FORM AND REGISTRATION FOR 21/22 ACADEMIC SESSION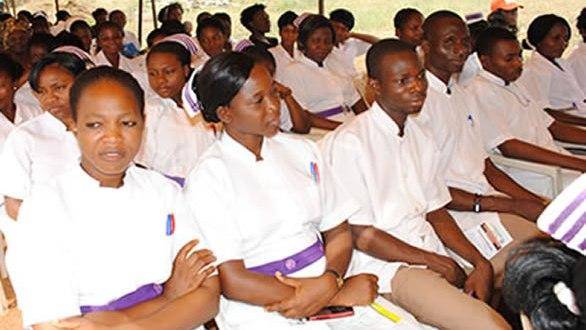 1. Pay a non-refundable fee of twelve thousand, four hundred naira (#12,400) only into any of the following accounts:
a. Akuchukwu Microfinance Bank located within the hospital vicinity
i. Account Name: Iyienu School of Nursing
ii. Account number: 0111000168
b. EcoBank: Any branch nationwide
i. Account Name: Iyienu School of Nursing
ii. Account number : 2182038360
2. Those who pay through Akuchukwu MBF are expected to proceed to the account section to change their teller to receipt.
3. Proceed to the School of Nursing for upload of your receipt and complete your registration.
4. For those afar, who pay via 1ii above, you are expected to click on the link http://iyienusonam.co.uk/p/jaxt.php?n=n fill the form and upload your teller, alternatively,
a. Click on www.iyienusonam.co.uk
b. Click on Application Form
c. Click on ''Submit Teller"
d. Fill the form and input all information correctly.
5. After submission, your PIN would automatically be generated and sent to your email within minutes/hours.
6. Once the pin is gotten, log on to http://iyienusonam.co.uk/p/jax_reg.php and input the pin exactly the way it is sent to you to access your form.
7. Fill the form and provide all necessary information accurately. At the end of the form, you are expected to create a username and password easy for you to remember before submitting the form online. The password and username enables you to access your data any time and any day.
8. After submission, you are expected to print out your exam slip which provides you your exam number, exam date and exam date.
9. Keep the exam slip safe as it gives you access to the exam hall.
Always log to https://www.iyienusonam.co.uk/news/ to get the latest updates or follow us on our Facebook page and get the latest gist and happenings in the school.
Should there be a problem or any challenge in the course of registration, do not hesitate to contact the following (Mon-Fri: 8am- 5pm, Sat: 10am-4pm)
a. Mr. Abel Ojoma E; 08188104942; 08071061354;
b. Mr. Joseph Akinwale: 07032474589; 08022477632
You can also send mail to
 info@iyienusonam.co.uk; soniyienu@yahoo.com; brosabel1710@iyienusonam.co.uk
NB: PLS, DO NOT PAY ANY MONEY TO ANY INDIVIDUAL OR PRIVATE ACCOUNT YOU DO SO AT YOUR OWN RISK