The Vice-Chancellor of the Ekiti State University, Ado Ekiti, Prof. Edward Olanipekun has decried the tuition debt owed by students of the institution amounting to the sum of over two billion naira.
While speaking on Monday during the press conference kickstarting the university's 24th convocation ceremonies, Prof. Olanipekun appealed to parents to pay the school fees debt owed by their children.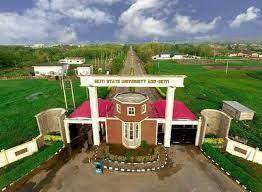 He stated that as part of the ways to recover the debt, the university is going to generate institutional e-mails for students where they can interact with lecturers or supervisors. But students owing school fees will be shut out from the interfacing with lecturers or supervisors.
"We are using this as online and physical teaching methodologies. You can't interact with your lecturers or supervisors either for lecture or seminar as a debtor," he stressed.
He said that the university would on Thursday hold a virtual convocation to confer diploma, bachelor's degrees, masters and PhD on 11,394 graduands of the University for the 2017/2018 and 2018/2019 sessions.
The VC further hinted that 233 students will be conferred with diploma certificates; 10,509 students with bachelor degrees; 97 students will bag postgraduate diploma; 408 students will earn masters degrees and 147 students will be awarded PhD degrees.