This is to inform the general public particularly prospective applicant earlier scheduled to write their Teachers Recruitment Examination at Elerimos CBT Center, Erin-Osun, that they will now sit for the Examination today, Wednesday, 10th February, 2021 as from 11.30am.
All affected applicants are enjoined to visit https: osun.csm.ng as from tomorrow, Tuesday, 9th February, 2021 by 10.00am to print out their Examination Slips which will admit them into the venue of the Evamination.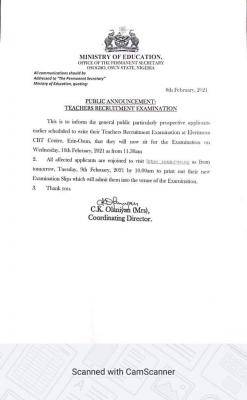 IMPORTANT PUBLIC ANNOUNCEMENT FOR TEACHERS RECRUITMENT TEST CANDIDATES WHO ARE AFFECTED BY THE CURFEW IN ILOBU/ERIN AXIS.
Category 1 :
Candidates resident in Ilobu/Ifon/ Erin Osun axis that are posted to other parts of Osun State for the test.
Approval has been given for such candidates to use their EXAMINATION SLIPS as identification and pass to move out of your area to participate in the examination. All you have to do is show you exam slip to the Securty Agents enforcing the curfew and you will be allowed to pass
Category 2
Candidates posted to Erin Osun CBT Centre.
All candidates posted to Jamb CBT centre in Erin Osun will now have their examination on Wednesday at different centres in Osogbo and its environs.
Your are enjoined to reprint a new examination slip showing your new centre and time from tomorrow (Tuesday 9/2/2021) morning . Your examination is on Wednesday so you have the whole of tomorrow to print your new slip. Also expect a bulk sms containing more relevant information from us to this category of candidates tonight.
We wish you the best in your examination.
Thank you
Signed
C K Olaniyan
Coordinating Director
Min of Education