This to inform all Lagos State Polytechnic (LASPOTECH) Part-Time (Regular) students that the school has fixed Saturday 31st October 2020 as the resumption date for continuation of 2019/2020 second semester.
a) Guidelines for Revision/Registration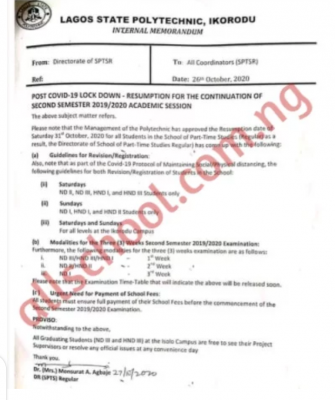 As part of the COVID-19 protocols for maintaining social/physical distancing, the following guidelines for both Revision/Registration of students are to be followed:
Saturdays:
ND II, ND III, and HND III students only
Sundays:
ND I, HND I, & HND II students only
Saturdays and Sundays:
For all students at Ikorodu campus
Modalities for the Three (3) weeks Second Semester 2019/2020 Examination:
Further more the modalities for the 3 weeks examination are as follows:
ND III, HND III, HND I – 1st Week
ND II, HND II – 2nd Week
ND I – 3rd week
Please note that the examination timetable that will indicate the above will be released soon.
Urgent Need for Payment of School Fees:
All students must ensure full payment of school fees before the commencement of 2019/2020 second semester examination.
FULL-TIME RESUMPTION DATE:
This is to inform students of Lagos State Polytechnic (LASPOTECH) that the new resumption date for Higher National Diploma (HND) I and HND II for completion of 2019/2020 session is Monday 14th September 2020. Classes will hold on Mondays, Wednesdays & Fridays. Time: 9am – 2pm
While the resumption date for National Diploma (ND) I is Monday, 21st September, 2020. Classes will hold on Tuesdays & Thursdays. Time: 9am – 2pm.
ND II students are to resume on Monday, 5th October, 2020 to conclude their remaining examinations.
Thank you